Most people think of the treadmill as equipment for running long distances. This can be great if you have time to spare, but what if you're short on time?
While traditional steady-state running on the treadmill can be tedious and time-consuming, interval training is a great way to get in an intense cardio workout in a short amount of time. This is because you mix bursts of high-intensity exercise with slower-paced recovery periods with high-intensity training.
With the best treadmill for interval training, you can get all the benefits of interval training in just 10 minutes. This type of treadmill is designed specifically for high-intensity bursts, with a slower-paced recovery period built-in.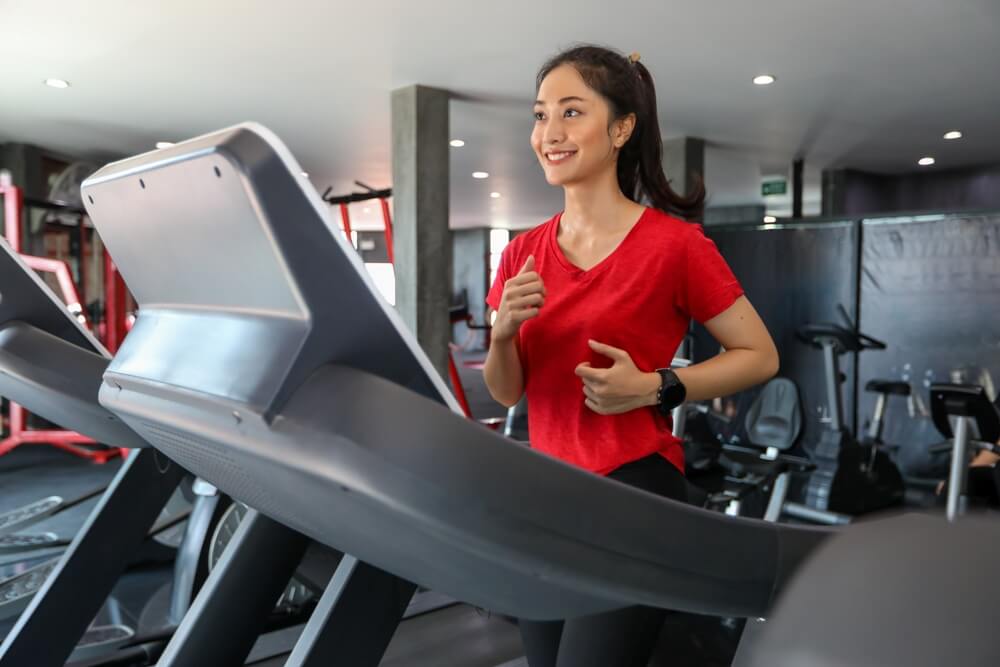 5 Best Treadmills for Interval Training Reviewed
We have reviewed the top home treadmills in the market and picked the 5 best treadmills for high-intensity training. To make your choice easier, we have compiled this list of top 5 products along with their key features and price range to help you make the right buying decision.
1. NordicTrack Commercial 1750 Treadmill
NordicTrack Commercial 1750 Treadmill + 30-Day iFit Membership
30-Day iFIT Family Membership Included; Stream live & on-demand workouts on your equipment with Global Workouts & Studio Classes; Add up to 5 users; Elite trainers adjust your equipment ($39 value)
Immersive 10-inch interactive HD touchscreen streams on-demand iFIT workouts directly to your equipment and provides easy stats tracking; SMART-Response motor for effective running and cardio training
-3 to 15 % OneTouch incline control; 12 MPH SMART OneTouch speed control; Your iFIT Trainer auto-adjusts your speed and incline to meet trainer requirements and match real-world terrain
Innovative SpaceSaver design with EasyLift Assist means your treadmill can fold up after your run for compact, simple storage; 22" x 60" tread belt for leg and elbow space; Runners Flex cushioning
300-pound user capacity; Protected with a 10-year frame warranty, 2-year parts warranty, and 1-year labor warranty; 62.75" H x 39.25" W x 81.25" L
Last update on 2023-09-25 / Images from Amazon Product Advertising API
The NordicTrack Commercial 1750 treadmill is one of the most popular treadmills on the market. Boasting a 3.75 horsepower motor, this machine can reach speeds up to 12 miles per hour, making it perfect for even the most strenuous running regimen. Additionally, one of the best treadmills on our list comes with 50 different workout programs to keep your fitness journey exciting and challenging. So whether you're a beginner or a pro, the Commercial 1750 has something for everyone.
The affordable treadmill is easy to use and can be folded up for storage. The treadmill has a 10-inch touchscreen, FlexSelect cushioning, a cooling fan that adjusts automatically, and a folding design that saves space. In addition, 1 year of iFit workouts is included with the Commercial 1750, which provides on-demand, instructor-led global HIIT treadmill workouts streamed via Bluetooth.
The home gym treadmill features an innovative, space-saving design with an EasyLift Assist that allows your treadmill to collapse after your workout for easy storage; tread belt with a width of 22" and a length of 60" provides leg and elbow room; Runners Flex cushioned, 300-pound user capacity; protected by a 10-year frame guarantee, 2-year parts warranty, and 1-year labor warranty.
2. Bowflex Treadmill 22
Sale
Bowflex Portable Treadmill 22
Try our JRNY All-Access Membership for 2 months, free*
Fitness + fun with just-for-you adaptive workouts, inspiring trainers, streaming entertainment and much more with JRNY membership
Travel through 200+ virtual courses at your own speed or experience them alongside your adaptive workouts with JRNY membership
Stream your favorite shows during an adaptive workout*
22" Console with HD Touchscreen (WiFi connection required)
Last update on 2023-10-03 / Images from Amazon Product Advertising API
Tone up and stay healthy with the Bowflex Treadmill 22. This top-of-the-line treadmill is built for comfort, with a spacious deck that's 60 inches long, making it perfect for runners of all sizes. Plus, its max speed rating of 12 miles per hour means you can get your heart rate up in no time! And if you're looking to tone your muscles, this machine features 3 horsepower and a maximum weight recommendation of 350 pounds. So what are you waiting for? Get moving today with the Bowflex Treadmill 22!
The Bowflex Treadmill 22 has a fantastic design and construction, sturdy performance, and various extra features. Unfortunately, this high-end machine is almost as big (or even larger) than the ones you'll find at your gym.
The JRNY app is necessary, though the fitness machine only comes with a 2-month free trial. Unfortunately, JRNY does not provide community features or live studio sessions.
3. Assault Fitness AirRunner
Assault Fitness AirRunner, Black Frame/Charcoal, 2" x 16.4'
Like running on air burns up to 30% more calories than a motorized treadmill
Dimensions: 69.9" L x 32.8" W x 64" H | Weight: 280 lb
Max User Weight: 350 lb
Easy on the environment runs on your energy with zero electrical consumption
Optimal for all types of training.
Last update on 2023-10-03 / Images from Amazon Product Advertising API
The Assault Fitness AirRunner lets you get a great workout with the power of the air. This high-end treadmill is built tough with alloy steel and can handle up to 350 pounds. It has a max incline of 30 percent and reaches speeds of up to 20 miles per hour. Plus, the AirRunner comes with a handy corded electric power source. So tone your entire body with this premium piece of fitness equipment.
The Assault Fitness AirRunner is a manual treadmill that requires no electricity and is powered solely by you! The curved, slatted belt moves backward as you stride forward on it, allowing you to control the speed.
The AirRunner was built with HIIT in mind, and the company claims that the sturdy belt of one of the expensive treadmills will last 150,000 miles. A simple LCD screen shows your workout data including time, speed, distance traveled, pace, watts produced, and estimated calories burned.
4. Echelon Stride Treadmills
Echelon Fitness Stride Auto-Fold Smart Treadmill + 30-Day Free Echelon Membership.
Enjoy a FREE 30-day trial of the Echelon Premier Membership with access to more than 3,000 live and on-demand connected fitness classes led by the world's best instructors through the Echelon Fit App. Classes range from 5 to 45 minutes and are designed for everyone from beginner to pro athletes. Explore classes like Cycling, Rowing, Running, HIIT, Kickboxing, Yoga, Pilates, and more. One membership allows up to five users, so your friends and family can enjoy the Echelon experience together.
HIGHEST SAFETY STANDARD: Echelon Stride puts safety and convenience first. Metal safety bar underneath running deck protects objects from being pulled under. Meets international safety standards UL 1647 and EN20957. These aren't easy standards to pass, but Echelon does.
DESIGN: Functionality and technology meet intelligent design in the newest addition to the Echelon product family. Designed with convenience in-mind, the Echelon Stride features auto-fold technology to make heart-pumping workouts more accessible than ever before.
FEATURES & PERFORMANCE: Running deck size 20" x 55" - Integrated handlebar heart rate sensors displays in classes and display panel - Max speed of 12 MPG and max incline of 10% - Generous side steps for convenient step-off - Bluetooth connectivity - USB charging port - Built-in steel handle for potability - safety stop lanyard - Folds to just 10 inches uses patented auto-fold feature with built-In transport wheels that provide horizontal and vertical portability and easy storage
CONTENT: With a membership, you will choose from endurance, climbing, interval, scenic and other classes from our world class instructors. You also get our Fitpass programs which include yoga, strength, pilates, boxing and much more.
Last update on 2023-10-03 / Images from Amazon Product Advertising API
Echelon Stride treadmills are the perfect way to get your workout in, regardless of your fitness level. With a max speed of 12 mph, 10% incline, and 3% decline, you can customize your workout to meet your needs. And with 8 built-in workout programs and live/on-demand workouts available with an Echelon membership, you'll always have something new to try.
In addition, the LED console is easy to use and provides all the information you need during your workout. Plus, the surface size of 20×55 ensures that everyone can find a comfortable place to run or walk.
It's not expensive, nor high-end. In most cases, it's good enough in terms of design, power, and features. The Stride doesn't have an HD video screen as other treadmills of the price level do. However, it does include a simple folding mechanism that makes storage quick and easy.
5. Horizon Fitness T101 Treadmill
Last update on 2023-10-02 / Images from Amazon Product Advertising API
If you want a treadmill, Horizon Fitness is a great choice for anyone looking for an easy-to-use, durable machine. This machine is simple to assemble and has a maximum speed of 10 miles per hour, making it perfect for various users. In addition, the T101 can support up to 300 pounds, making it the perfect option for people of all sizes.
People reviewed it as one of the quietest treadmills for home use. The T101 is a heavy-duty, commercial treadmill with a robust motor, cooling fan, cushioned surface, and speakers (Bluetooth). The nicely-designed dashboard allows you to control the speed and incline with a button. Horizon T101 also folds easily due to a nimble hydraulic lift.
Because the folding treadmill costs around $1000, you don't receive live studio classes or a touchscreen. If you're looking for a budget treadmill for a short run or walk in your home gym, the Horizon T101 is the best value.
Try our recommended post on the Best Budget Treadmills for Home
Buying Guide for the Best Treadmill for Interval Training
It is important to check the options a treadmill offers before selecting a treadmill for interval training workouts. Here are some tips on purchasing a treadmill for running.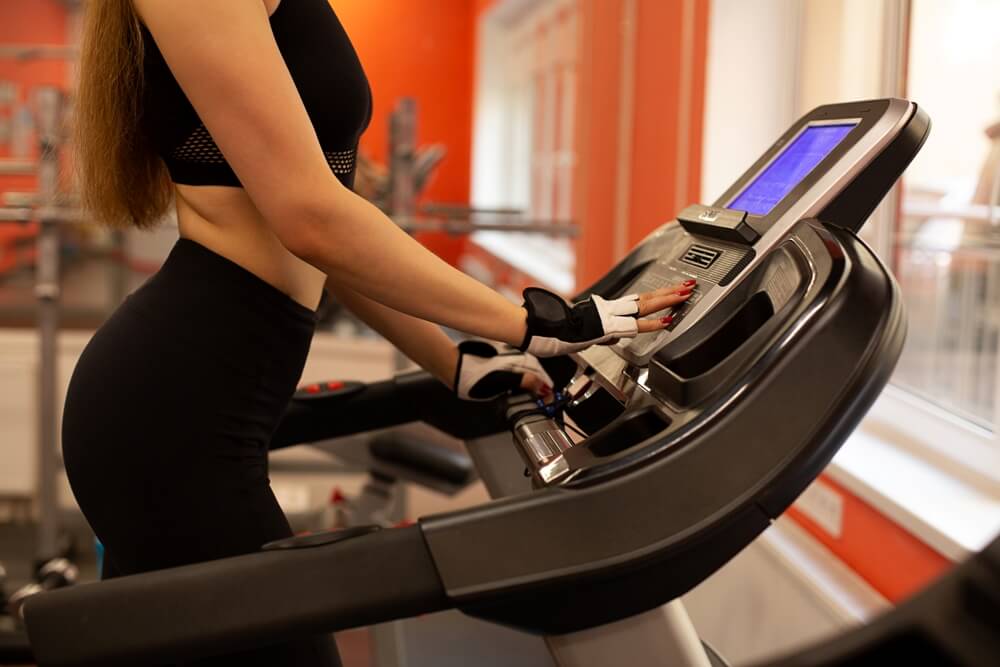 Running Surface
The belt size is an essential factor in comfort, and it depends on your weight and stride and posture, and preferred speed. Get anything smaller than 20″x50″ for maximum efficiency, or else you'll lose energy to wobbling around also; make sure it's at least 3″ wide because anything less will be uncomfortable after any appreciable speed. Most models are 4-5inches wide for this reason.
Construction quality
Get a sturdy machine with a high weight capacity. Inward vs. outward folding is up to you, I don't find it important, but some people might. If possible, test if it's quiet enough or gets an extra weather shield for outdoor use if that's what you're looking for.
Speed and Incline
Best treadmills have a top speed of 12 miles per hour. Consider higher, but keep in mind that you're probably not looking for the highest speed possible just because it's there – I'd say that 10 miles an hour are plenty. You can always slow down by shifting into a lower gear if needed – this happens automatically when your legs are stronger than the motor anyways! Only go higher if you are already experienced enough to run at these speeds comfortably.
For inclines, make sure theirs at least 1 adjustable incline level; anything else is pretty much useless. The treadmill design has mostly no effect on resistance; it's all about power delivered to the belt, which depends on the type of motor and its power rating. Some models come with a power incline option which you can lock at your desired angle, but don't expect it to be as good as an actual treadmill – I tried, and it's just not the same.
Folding mechanism
Most treadmills have no folding mechanism other than manually lifting them up or down, which takes time. The ones that fold usually have hydraulic lifts, which are very smooth and easy to use. I've got a Horizon T101 folding treadmill – it folds up automatically when the console is folded down. That way, it doesn't take precious floor space when not in use, but you can still work out with it standing up if needed.
Recommended Article: Best Foldable Treadmills of 2022
Controls
I prefer a console that lets me choose my speed or incline with a button rather than a treadmill lever. This might be different for others, so consider your needs before deciding on this one. Make sure they have an adjustable tension option so you can turn up the resistance when training muscles other than legs if necessary. Also, make sure there's some cooling fan included because most don't come with it, and you'll sweat a lot even at low speeds.
Warranty
I've never had to use the warranty of any machine I bought so far, but this is something you should look at before purchasing a new treadmill. Certain brands will last longer if treated correctly, which also affects lifetime costs of ownership – running a machine for extended hours every day is not healthy for it, no matter how expensive or cheap it was. So if possible, find some reviews on treadmill forums that tell about reliability issues that others have encountered and their solutions.
Additional Features
Having a machine with heart sensors is nice but not necessary. On the other hand, if you like to run inside during bad weather or postpone your training because of it, it could be essential. In addition, some best treadmills offer additional features like internet connectivity, Bluetooth speakers, TV monitors, and whatnot – make sure to read through customer reviews before deciding if you need them or not.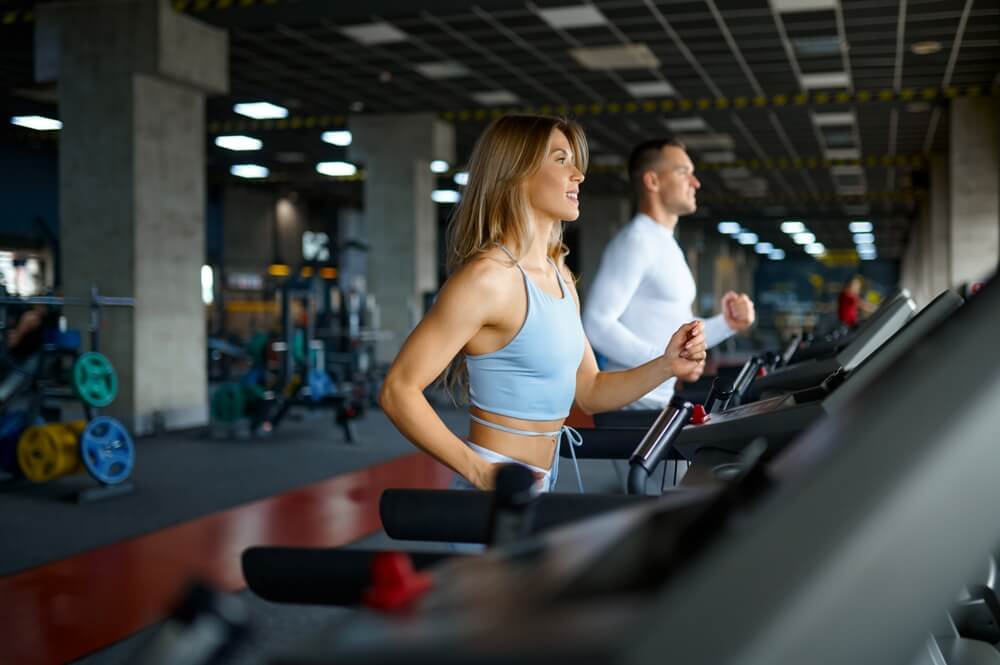 FAQs on Best Treadmills for Interval Training
Can you do interval training on a treadmill?
Yes, you can do interval training on a treadmill. One of the simplest methods to perform a HIIT workout on the treadmill is, for a good reason, one of the most popular. Not only is it an excellent cardio exercise, but interval training on a basic treadmill similarly engages your muscles to that of strength training.
What does interval training mean?
Interval training is a workout where work and rest intervals are mixed with increasing exercise intensity. It's known as high-intensity interval training (HIIT) or sometimes burst training. This type of activity has been shown to give better results than continuous moderate workouts at the same amount of time spent exercising. HIIT workouts usually consist of 20 seconds to 2 minutes (or more) of intense effort followed by 1 minute or more of less intense recovery periods throughout one longer workout period.
Why should I use an incline when running?
If you have access to an inclined treadmill, running on it increases stress on the leg muscles. However, an incline is beneficial in your workout if you tone your muscles, lose weight, or even train for a sport. It is best to understand how different treadmills work before using one with an incline.
Is interval running considered HIIT?
While interval running is considered HIIT, HIIT workouts are not necessarily interval training. You can perform interval training without using an incline, but you cannot run on a treadmill at the same intensity with HIIT.
Is a 20-minute treadmill workout effective?
A 20-minute treadmill workout is just as effective as any other type of cardiovascular exercise. In addition, treadmill workouts are great for interval training because they allow you to change speed and incline instantly, making HIIT workouts easier.
Is interval training good for losing weight?
Interval training is good for losing weight because it burns fat and keeps your metabolism elevated throughout the rest of the day. A treadmill is perfect for this type of workout because you can adjust speed and incline to increase or decrease intensity.
Most individuals assume that only extreme exercise, such as 100-mile runs or interval training, will reduce body fat and weight. Moderate continuous exercise, as well as high-intensity training, may both help to reduce body weight and fat. Interval training, on the other hand, is better at promoting weight reduction.
What are the disadvantages of interval training?
The main disadvantage of interval training is the time required to do it. To see weight loss or reduction in body fat, you have to spend at least 20 minutes on a treadmill performing high-intensity activity.
Are intervals better than jogging?
Unlike a traditional running program, interval training programs allow for considerably more time spent at higher intensities. Higher intensity activities work more muscle fibers and enhance your maximum aerobic capacity than longer, slower jogs.
Final Words
I hope this article was helpful for you in finding the best treadmill for interval training. The best way to lose weight is to incorporate a mix of cardiovascular and strength training in conjunction with a healthy diet and adequate sleep. If you take the time and energy to develop and maintain this lifestyle, you will not be disappointed with its benefits.